Have Anxiety? Try Sedation Dentistry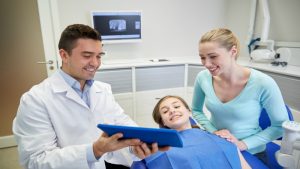 If you have anxiety and fear going to the dentist, you should look into going to a dentist that offers sedation dentistry for children near Chino Hills. According to the Dental Organization for Conscious Sedation, you are not alone in fearing going to the dentist. About 30% of the adult population in the United States avoids going to the dentist because they are afraid.
Sedation dentistry for children near Chino Hills is a great option for anyone who experiences anxiety or extreme fear about going to the dentist. If your fear is keeping you from going to the dentist, then you need to try this option. This option is great for people who suffer from fears or problems related to the following:
1. General social anxiety
2. Over active gag reflex
3. Fear of needles
4. Fear of drilling sounds
5. Difficulty getting numb for necessary dental procedures
6. Experience tremors
These are only a small list of some of the phobias and problems that sedition can address. It can also address other problems as well. You can talk with your dentist to see if sedition will address your problems.
One of the biggest benefits of sedation dentistry is that it minimizes anxiety. It allows you to receive the dental care that you need without having to experience high levels of anxiety. It allows you to receive dental care in a comfortable and relaxed state like other people do.
There are different types of sedation that you can undergo when you go to the dentist. Some of the most popular options for sedation include: nitrous oxide sedation, oral sedation and IV sedation. Your dentist may offer different sedation options as well. If you want to use sedation during your next dental visit, call and discuss with your dentist ahead of time which option would be best for you.
If you experience extreme fear or anxiety just thinking about going to the dentist, one way you can reduce your anxiety is by going to a dentist that specializes in sedition. You can use sedition to reduce the anxiety you feel, and to have a more comfortable experience. Contact Kids Dental Specialists today and discuss your options.