Ready for a New Smile? Top 3 Cosmetic Dentistry Treatments in Lakeview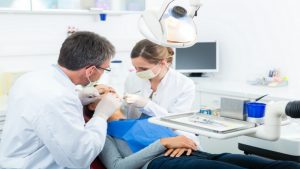 If you're tired of having the same smile, it may be time to consider cosmetic dentistry. Here are the top three treatments by cosmetic dentists in Lakeview that are sure to transform your smile.
Teeth Whitening
You can buy products at the store that are intended to whiten your teeth, but these products rarely deliver. Teeth staining is a complex issue that requires professional treatment. A cosmetic dentist in Lakeview can whiten and brighten your smile in just one treatment.
Dental Veneers
Veneers are thin pieces of ceramic or porcelain that are adhered to your natural teeth. The procedure is recommended for permanent whitening or to hide gaps, crooked teeth, chipped teeth, and other concerns. Dental veneers look completely natural and are easy to care for with regular brushing and flossing.
Implants
Having missing teeth is embarrassing, and the two most common solutions are dentures and bridges. Although these techniques are effective, they are not without limitations. Dental implants also replace missing teeth, but the replacement tooth is securely attached to your jaw bone. The crown at the top of the implant looks like your natural teeth. If you are having your teeth whitened, the dentist can use a crown that is lighter than your natural tooth color.
Where to Find a Cosmetic Dentist in Lakeview
Dental Professionals of Lincoln Park offers general, restorative, and cosmetic dentistry. Call them today to learn more about their services and schedule an appointment. You can also visit their website online.