Dentists and their able assistants: Making your dental visits always a pleasure
All of the world's greatest professions make use of able assistants to help them perform their tasks more efficiently. The doctors have their nurses, lawyers have their secretaries, and accountants have their staff. For the dentists, there are their dental assistants. One would assume that a dental assistant is just to sit pretty all day, take in appointments, and do the paperwork. Dental assistants are ideal examples of people who are great in multi-tasking. They are great because they need to do financial work, paper work, technical work, radiology work, social work and, of course, the roles of an effective assistant. The training they receive help boost their performance at work.
The Dental assistants at El Dorado Hills are well knowledgeable about all the operational aspects that happen in a typical dental clinic or office. Their tasks include informing the dentist of any necessary equipment, assets, or materials that need to be bought or replaced. Things such as a busted light, a cracked floor tile, a faulty water dispenser and any other things.  In terms of paperwork they also fill their role perfectly. They take care of the necessary office related transactions in the clinic. Transactions such as renewing the business permit, the mayor's license, health permit, and many others. They ensure that dentists are freed from routine works so that they can concentrate or focus in giving their patients the best treatment and dental service possible.
Able Dental assistants in El Dorado Hills are also well-versed in performing technical and radiology work. They are well trained to operate the different dental equipment in the clinic — whether it's the dental chair, the water spray, and even the simple computer. They are precise and accurate in everything they would operate. The radiology work is a task they also know well. Some have the ability to operate the x-ray machine necessary for dental x-rays. They also possess the knowledge to read and analyze a patient's dental records.
The best Dental assistants in El Dorado Hills are also adept at social work. In the aspect of social interaction with patients, the dental assistants are the ones in charge of the dentist's appointments. They are responsible for scheduling appointments of their dentists to a particular patient. They also inform the dentist of any personal and non-work related appointments that they have noted. Dental assistants make the patients at ease while waiting for their turn. There may be magazines or a television in the waiting room but it's still a good approach when the assistants mingle with the patients. This is in order to release a patient's anxiety, impatience, and even fear.
Because of all these, the roles of a dental assistant can never be underestimated. In choosing the right dental service provider, the qualities of a dental assistant should also be given due consideration. A good assistant is a reflection of a good dentist. They should be able to render excellent customer service as they are the first person you'll see and encounter when you visit a dental office.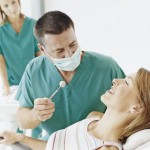 Make your every dental visit a pleasurable experience. Where there's an able assistant, there must be a highly-qualified dentist in that office too! Find reputable dental El Dorado Hills practitioners at the website