Finding Myofunctional Therapy in Park Ridge, Illinois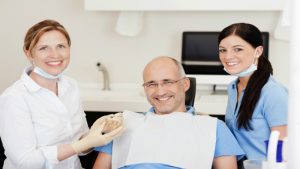 Oral health impacts the functionality of your entire body. As the entry point to the digestive and respiratory systems, bacteria have easy access to the rest of your body. When you digest lots of oral bacteria, you're at higher risk of developing a disease.
Although it takes a toll on your health, bacteria is not the only oral threat. Orofacial myofunctional disorders, or OMDs, are facial disorders that negatively impact muscle function. Without proper oral muscle function, it can be difficult to eat, speak, breathe, and even sleep. To correct these conditions, you should get professional myofunctional therapy.
Using a combination of physical therapy methods, myofunctional therapy improves tongue positioning, facial posturing, and your mouth's soft tissues for optimal function. Oral care professionals create these therapies based on your age and specific needs. If you're an Illinois resident, consider getting your dental treatment at Beyond Smiles in Park Ridge.
The oral care specialists at Beyond Smiles in Park Ridge are dedicated to providing a quality dental experience. With over 15 years of experience, they serve customers of all ages in a comfortable environment. From providing warm pillows to using therapeutic grade essential oils to promote relaxation, they go the extra mile to make sure you feel safe enough to undergo treatment.
If you live in Illinois and need myofunctional therapy or any other dental-related treatments, be sure to visit the Beyond Smiles of Park Ridge. To set up an appointment or for general inquiries, visit their website or contact them today.